ONLY the very heaviest REAL politics makes the pages of this website - and this qualifies. YOU need to study and be aware of the whole 3D printing phenomena that is coming.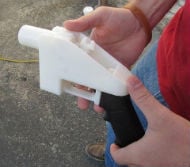 http://torrentfreak.com/images/3d-gone.jpg
Pirate Bay Takes Over Printing Of 3D Guns - that is but not before over 100K were downloaded anyway before they were outlawed/nearly outlawed - by the government.
===========================================
===========================================